Uncategorized
What Would You Name Your Racehorse?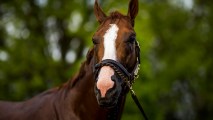 Billionaires seem to have all the fun, with their boats and their racehorses. And, as if that weren't fun enough, they get to come up with whimsical names for them, like "Vitamin Sea" and…
Photo Credit: Alex Evers/Eclipse Sportswire/Getty Images
This story uses functionality that may not work in our app. Click here to open the story in your web browser.