By Marissa Finn, Writer at Edible Manhattan
Chelsea's restaurants, shops and producers offer some of the greatest food in the city. Whether you're looking for a local grocer or an elegant dinner, there's something for everyone in this community.
If you're visiting Chelsea for the first time, there's no better place to start than Chelsea Market. Within the market, 35 vendors sell anything and everything you could ever need. Six million people pass through each year, and for many, the options can seem overwhelming. Find some of our favorite places to eat in Chelsea Market below, and click here for the complete list of 14 places to eat, drink and shop in Chelsea.
Of course it's impossible to include everything in a city like New York. Have a favorite that's not on this list? We'd love to hear from you! Let us know in the comments.
—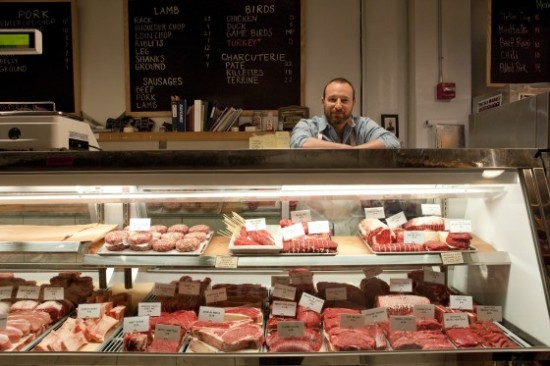 Finding quality meat so close to the Meatpacking District is, contrary to what the name might imply, difficult. Fortunately, Chelsea has one gem of a meat purveyor in Chelsea Market called
Dickson's Farmstand Meats
. Owner Jake Dickson,
who we've profiled
, has a simple food philosophy: no antibiotics except to treat illness, no feedlots, no hormones and no animal by-products in the feed. The result has been an incredibly successful butcher shop with meat you can know and trust.
—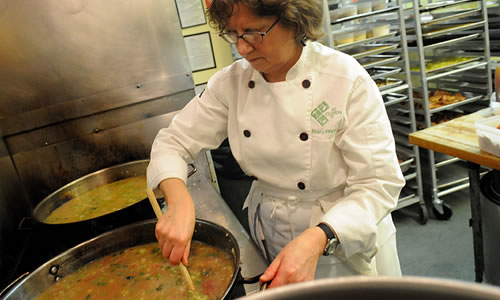 The Green Table
is a farm-to-table restaurant founded by
Mary Cleaver
that offers food and drinks based on seasonal and organic ingredients. The menu highlights some of our favorite farmers and purveyors, including
Consider Bardwell
,
Amy's Bread
and
Satur Farms
. Don't miss their organic burger, topped with kimchi and tomato relish.
—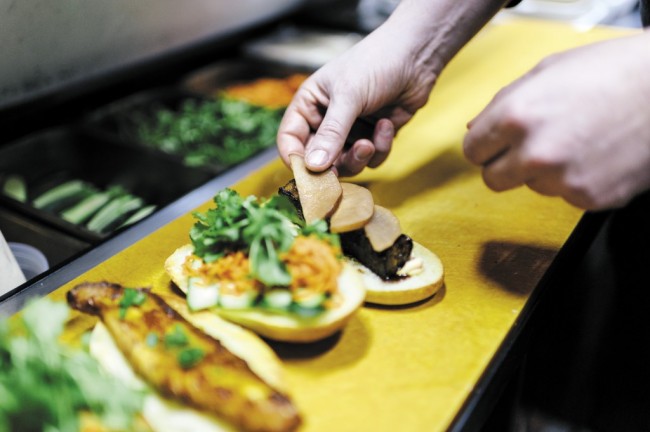 In our most recent March-April issue, we told the story of
how Num Pang invented the greatest sandwich on earth
. Their Cambodian sandwiches have truly created a revolution by combining flavor and texture profiles that are tough to find elsewhere in Manhattan. Num Pang's best kept secret though is that their sides are (dare I say it?) even better than the sandwiches. I could probably consume eight raw kale and apple salads on my own, and one of our readers wrote of their
curried lentil soup
: "
Best I've had since I was last in India!"
—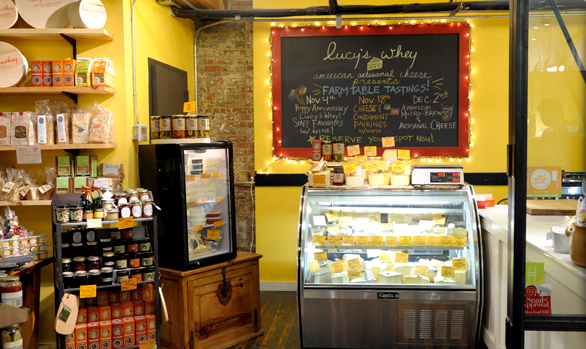 Lucy's Kazickas really loves cheese. She opened her shop
Lucy's Whey
 in East Hampton in 2008 and has since opened two locations in Manhattan, including one in Chelsea Market. Lucy sources from some of the best cheese makers in the country  (she lovingly refers to them as craftspeople), including our friends at
Consider Bardwell
. While you're there, don't miss their daily grilled cheese selection.
—
Click here for the complete list of 14 places to eat, drink and shop in Chelsea.
Photo Credits: Rachel Barrett; Michael Harlan Turkell; Joe Martinez; Lucy's Whey